Project Manager
Procurement Services
True procurement professionals know the richness of the profession and what it entails.
A Project Manager at Procurement Services understands this like no other. And knows how to manage different customers and customer requests. It is super challenging with lots of freedom and responsibility!
Because maintaining (and preferably slightly expanding) your own client portfolio is no piece of cake. It is top sport! Procurement Services works for very different companies in various industries. No day is the same and it is never boring.
What exactly does a job as a Project Manager at Procurement Services look like?
You work for a client, but also often at a client's location. For example as an extension of their purchasing team. You will consult, take stock, use benchmarks, analyze purchasing processes and create business cases. All aimed at getting a better grip on your client's procurement. Ultimately, under your direction, you also carry out what has been agreed upon through to the RFP and the negotiations.
Fortunately, you are not alone! You have 16 colleagues all with their own specialties and qualities and you can use all the data and benchmarks that have been built up in almost 20 years.
But we have even more to offer!
In this job you have a lot of control over your own schedule. Furthermore, we are an informal club of like-minded professionals and we have a very low turnover of staff. That is for good reasons. Procurement Services is a flat organization, has an inspiring workplace and a close team.
A word about the 'business' conditions, because you are a buyer or you're not 😉
For starters, an excellent base salary,
an attractive bonus scheme,
a lease car and interesting fringe benefits,
and, last but not least, ample opportunity for self-development.
Will you fit in?
Of course, you need to have (some) experience in the (NPR) procurement field. That goes without saying. It would be nice if you understand what it is like to work as a service provider. Furthermore, we like humor and a pragmatic, open and driven attitude.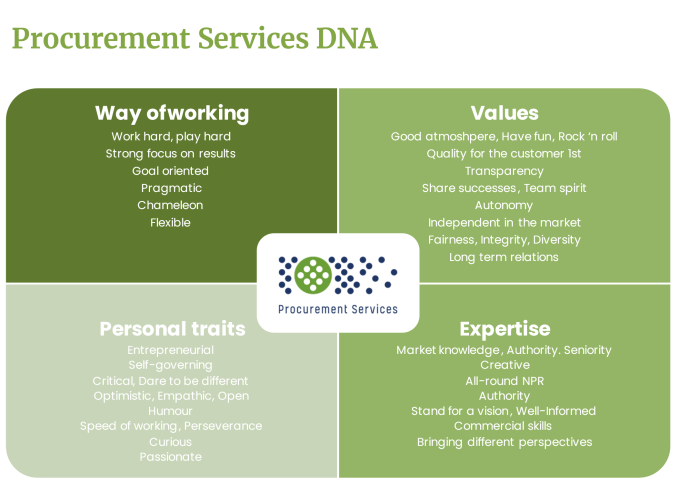 Finally, our wish list:
Completed Bachelor or Master education
Preferably a background as Head of Purchasing or Senior Buyer
Preferably experience in indirect procurement (Non Product Related)
Able to be a discussion partner at all levels
Will you make an initial offer?
Do you feel a click? And does your profile fit? Great! Let's take the next step. First, we would like to receive your CV with motivation via hr@procurementservices.nl. We will contact you by phone as soon as possible. If the click is mutual, we will make an appointment for an introduction. See you soon!
Equal Opportunity Statement (EOS)
At Procurement Services, we celebrate diversity and are promoting an inclusive environment in which our team members from all different backgrounds, ages, genders or sexual orientations feel equally appreciated. In order to achieve this, we are committed to shaping a hiring process that provides everyone with an equal opportunity to get hired.